Welcome to Miss Jacqs Fabric Boutique
African print fabrics, also known as Ankara or Dutch wax prints, are renowned for their eye-catching designs and bold colors. Each fabric tells a unique story and represents the rich cultural heritage of various African countries. When you wear African print fabrics, you not only adorn yourself with a stunning piece of clothing but also embrace the spirit of Africa.
Visit us often as we're constantly adding new fabrics and goodies to the shop.
We hope you'll find inspiration to be more creative and confident in your daily life.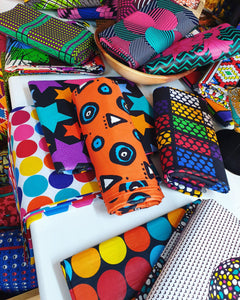 FABRIHOLIC
One who can't control the urge to buy fabric they do not have a project for. Again.
Get fabric
MJ Showroom
Lombardy Business Park
Unit 119, Bock 7
Cnr Cole Road & Graham Road
Pretoria
South Africa

Monday to Friday : 9am - 4pm
Closed: Saturdays, Sundays & Public Holidays.